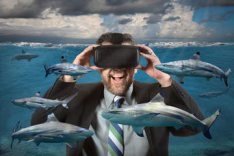 The rapid growth of the Virtual Reality (VR) market, according to Frost and Sullivan is attracting substantial private and federal investments in innovative start-ups, services and solutions, games and apps. The global VR hardware and software market is expected to grow from $1.37 billion in 2015 to $33.90 billion by 2022, at a compound annual growth rate (CAGR) of 57.8 percent between 2016 and 2022. READ MORE.
A rating of the best drones published March 2018 HERE.
Keith Curtin is an Entrepreneur, Brand Marketing Executive & Founder of See Digital, a consultancy firm specializing in Augmented Reality, Virtual Reality & Mixed Reality. He has recently been named #1 on Onayltica's "2016 Augmented Reality Top 100 Brands & Influencers" list. He believes that mixed reality will be the most important technology for 2017. Read details HERE.
How the field of virtual reality will change the world. READ HERE